Vision Karyo
Automatische Karyotypisierung von Chromosomen
Ein moderner Ansatz zur Chromosomenanalyse mit der FISH-Methode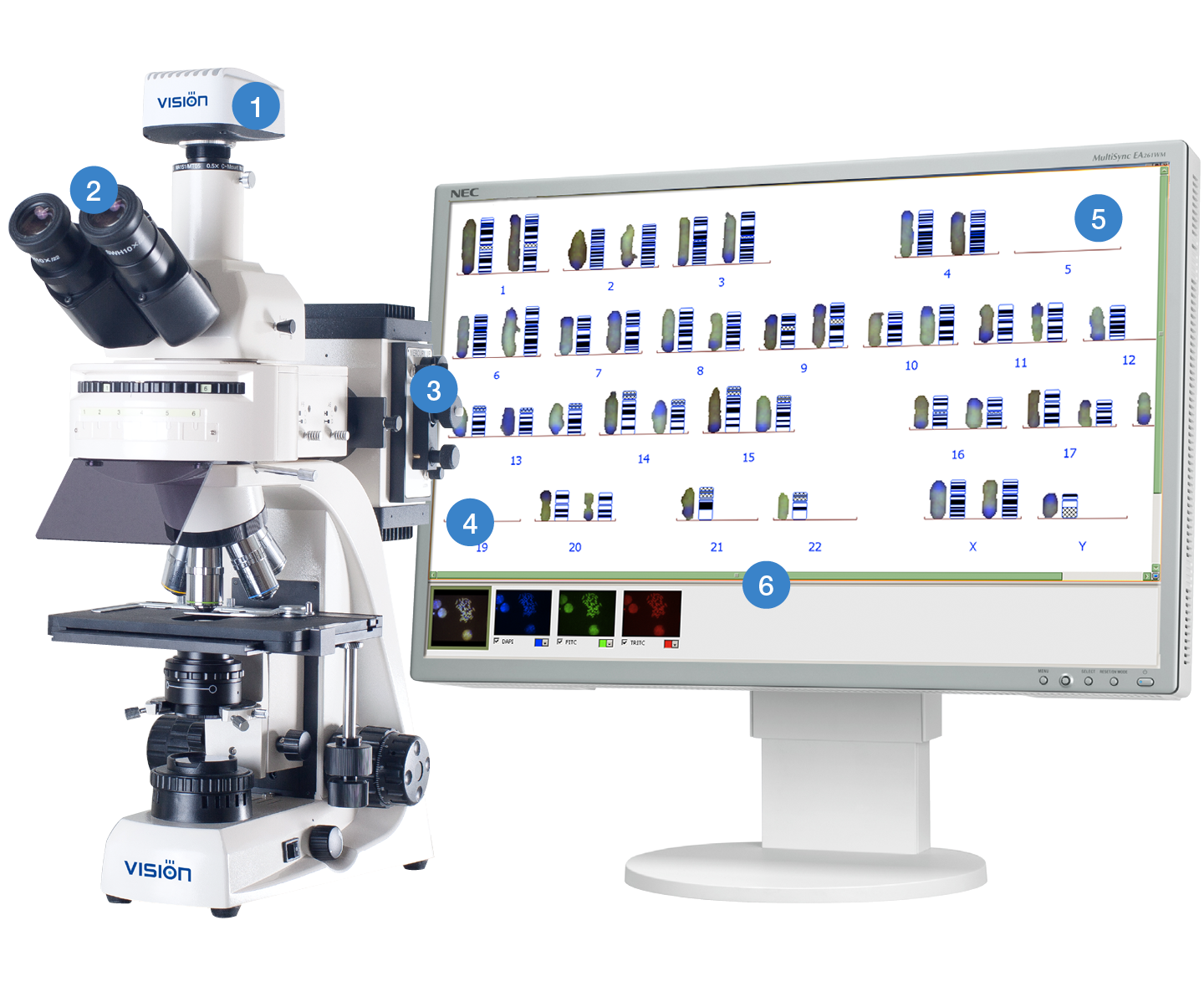 1
Eine hohe Auflösung liefert überlegene Bildqualität von einer mikroskopischen Probe einer Metaphasenplatte. Eine ultrasensitive Kamera erkennt selbst die schwächsten Signale.
4
Die Toolbar ist gemäß dem Analysealgorithmus gestaltet und gewährleistet die Einhaltung aller Phasen des Verfahrens, wodurch zuverlässige Ergebnisse geliefert werden.
2
Die Kombination aus innovativer Technik und klassischer Mikroskopie erweitert die Arbeitsmöglichkeiten. Bei Bedarf kann eine mikroskopische Probe einer Metaphasenplatte durch die Okulare betrachtet werden.
5
Eine automatisierte Karyotypisierung mit der Möglichkeit der manuellen Korrektur.
3
Eine Fluoreszenzeinheit mit bis zu 6 Filtern bietet eine breite Palette von Anwendungsmöglichkeiten der FISH-Methode.
6
Endgültiges Bild und Pseudo-Färbung
Das endgültige Bild wird erzeugt, indem eine Reihe von monochromen Originalbildern mit verschiedenen fluoreszierenden Farbstoffen kombiniert und pseudogefärbt wird.
Produktivität und Qualität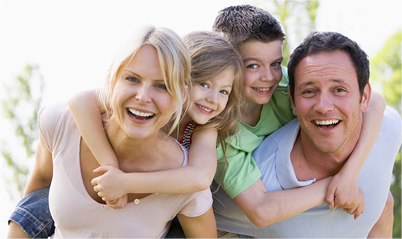 The automatic karyotyping of chromosomes
Vision Karyo erkennt automatisch Änderungen in der Anzahl und Struktur der Chromosomen, wodurch Sie genetische Anomalien diagnostizieren können (Down, Patau, Edwards- und andere Syndrome).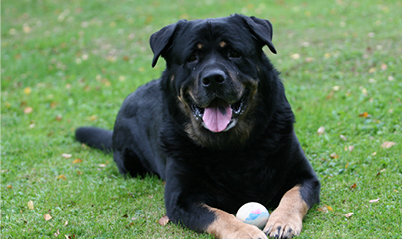 Karyotypisierung von Pflanzen und Tier Chromosomen
Vision Karyo ermöglicht die Kontrolle der genetischen Materialstruktur bei der Züchtung neuer Pflanzen- und Tierarten.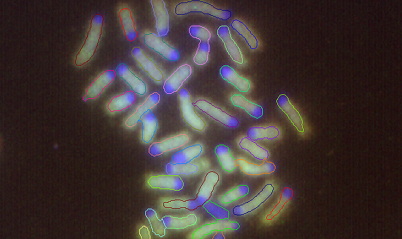 Chromosomenanalyse mit der FISH-Methode
Die Methode der Fluoreszenz-in-situ-Hybridisierung wird zur Identifizierung spezifischer DNA-Sequenzen verwendet und dient zur Automatisierung einer Vielzahl von Studien unter Verwendung der Fluoreszenzhybridisierungsmethode.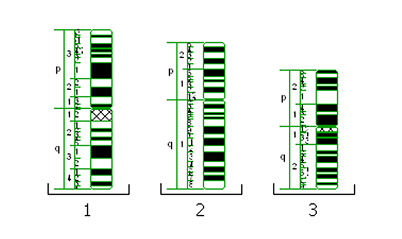 Eine einstellbare Referenz Leitfaden für Ideogramme
Generierung einer Ideogrammdatenbank zur zukünftigen Identifizierung von Chromosomen. Ein konfigurierbares Diagnose-Referenzhandbuch erfüllt Ihre persönlichen Anforderungen. Legen Sie Ihre Einstellungen nur einmal fest und verwenden Sie sie dann in Ihrer täglichen Routine.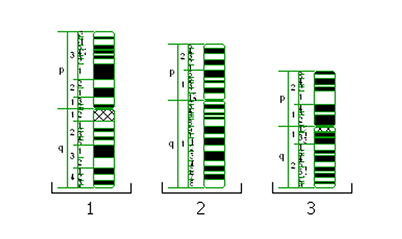 Berichterstellung nach persönlichem Bedarf
Sie können unterschiedliche Vorlagenanforderungen (Form und Inhalt) berücksichtigen. Hinzufügen und Löschen von Analyseparametern, Patienteninformationsfeldern und Bildern.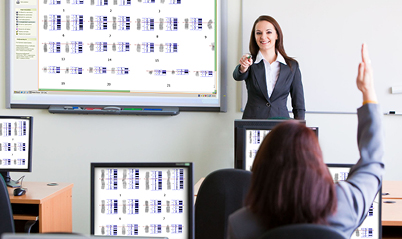 Bildung, Beruf und Entwicklung
Durch die Arbeit mit dem Vision Karyo-System verbessern Spezialisten und Techniker täglich ihr Fachwissen und durch die Überprüfung von Metaphasenplattenbildern sowie die Diskussion mit Kollegen und Experten.

Herunterladen
West Medica | Vision Karyo FISH